eNuGOweek 2021-Registration Page
The Registration for the eNuGOweek 2021 will be open from the 29th June till the 2nd of September midnight 2021!
To register, click https://bit.ly/3j5Zn8l
Please press the green Tickets button to select your ticket for the conference, fill in the form and you are registered!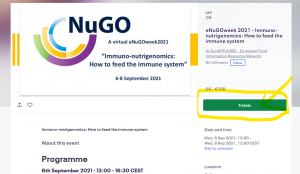 If you have any problems registering, contact [email protected]
Fee and Payment
EuroFIR AIBSL (BE) is hosting registration and payments via Eventbrite, so you might get emails from EuroFIR, but these will be branded for NuGO.
Do not contact EuroFIR directly. Any problems should be reported to [email protected] and we (NuGO secretary) will forward the email to the responsible person at NuGO or EuroFIR.
Registration fees/ Ticket prices for the eNuGOweek 2021 are set to the following:
1 p/NuGO member attending the GA,
ECN board, Chairs, moderator,
technical support, keynote speakers

  FREE

NuGO-PhD

  €25

NuGO-Postdoc

  €50

NuGO-staff members

  €75

External PhD

  €75
Others

  €100