UPDATE NuGOweek 2019: 3 September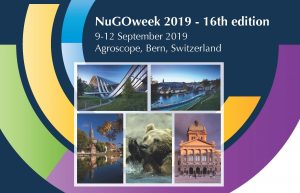 NuGOweek 2019, 16th edition
From foodomics to nutrigenomics – Translating food composition data into healthy diets
9-12 September 2019, Agroscope, Bern, Switzerland
Delegate's UPDATE
This UPDATE will guide you through the information you for your participation in NuGOWeek 2019. All information can also be found on the website.
Arrival and departure:
NuGOweek 2019 starts on Monday 9 September at 16:00 for registration.
The formal opening is at 17:30hrs
The closing session of NuGOweek 2019 starts on Thursday 12 September at 11:55 hrs
Venue:
Agroscope
Campus Liebefeld
Conference building
Schwarzenburgstrasse 153
3097 Liebefeld
Google map
Getting to Liebefeld Campus
from Central Station Bern
* Train S 6 (direction Schwarzenburg) -Liebefeld
* Bus 10 (direction Köniz Schliern)-Liebefeld Park
Public transport
Public transport in Bern is free of charge when you booked accommodation. On the day of arrival your booking document will be your 'free' ticket to get to your hotel. During check in a pass will be handover to you.
Currency:
1 € ≈ 1.08 CHF
Registration:
Opening hours of the registration/information desk:
Monday 9 September: 16:00-18:00 hrs
Tuesday 10 September: 08:30 – 09:15 hrs
We will also be available throughout the conference to answer your questions.
Programme:
Visit: [detailed programme]
Meals and refreshments:
* Tea and coffee will be served during the breaks.
* A welcome reception will be organized on Monday evening 9 September
* Lunch will be provided on Tuesday 10 - Thursday 12 September
* Dinner will be available on Wednesday 11 September (conference dinner 50€ participation charge).
Speakers:
Please provide your presentation on a USB stick to the technical service staff in the conference room K4/5 as soon as possible after registration, at the latest during the break before your session starts. Presentations will not be made available to the audience after the conference.
Abstracts, Posters and Poster Prize:
The book of abstracts will be available on the NuGOsite after login. You can find your login details in a separate email.
Posters will be presented in two sessions:
* Poster session 1: Tuesday 10 September 14:00-15:00
* Poster session 2: Wednesday 11 September 14:00-15:00
Poster sizes: The poster can have the size up to A0, LxH: 841 x 1189 mm
Posters should be mounted on the board provided on Monday 9 September during registration. Authors must be present on the day that their poster is being presented. Please stand next to your poster immediately at the start of the poster session. To determine which session your poster will presented in, please check the links above. Posters should be removed on Thursday morning.
Posters will be evaluated on their scientific content. The prize winners for the poster sessions will be announced during the conference dinner on Wednesday 11 September.
Post Graduate course and General Assembly
The Postgraduate course will be held from 7-9 September and is by registration only.
The General Assembly will be held on Monday 9 September from 15:00-17:30 and is on invitation only.
Wireless information:
Free Wi-Fi is available in the conference venue, you will find the login details in the conference bag.
Social activities:
* The welcome reception will take place on Monday evening 9 September at the conference site.
*On Tuesday evening, 10 September, the NuGO Early Career Network will meet for their annual social and networking event. Registration for early career researchers who wish to participate can be done during registration.
* On Tuesday evening, 10 September, a city walk is organised by Bern Tourism. Registration and payment for this can be done via the registration website or during registration.
* On Wednesday evening the conference dinner will be held at the Highland Gurten Restaurant (50€ participation charge). Registration and payment for this can be done via the registration website or during registration
For more information check the website here
Sponsors:
We are grateful for the financial support of our [sponsors]
* NuGO
* Swiss Confederation – Federal Department of Economic Affairs, Education and Research – Agroscope
* Swiss Confederation – Federal Department of Economic Affairs, Education and Research – Federal Office for Agricultural FOAG
* Amway
* Genes and Nutrition
* Swiss National Science Foundation
* International Union of Nutritional Sciences
* Science Industries Switzerland
* Chocolat Frey
* Swiss Milk
* Schweizerischer Verband der Ernährungsberater/innen SVDE
Conference website:
http://www.nugo.org/nugo-week/nugoweek-2019/