Registration details
Registration fees: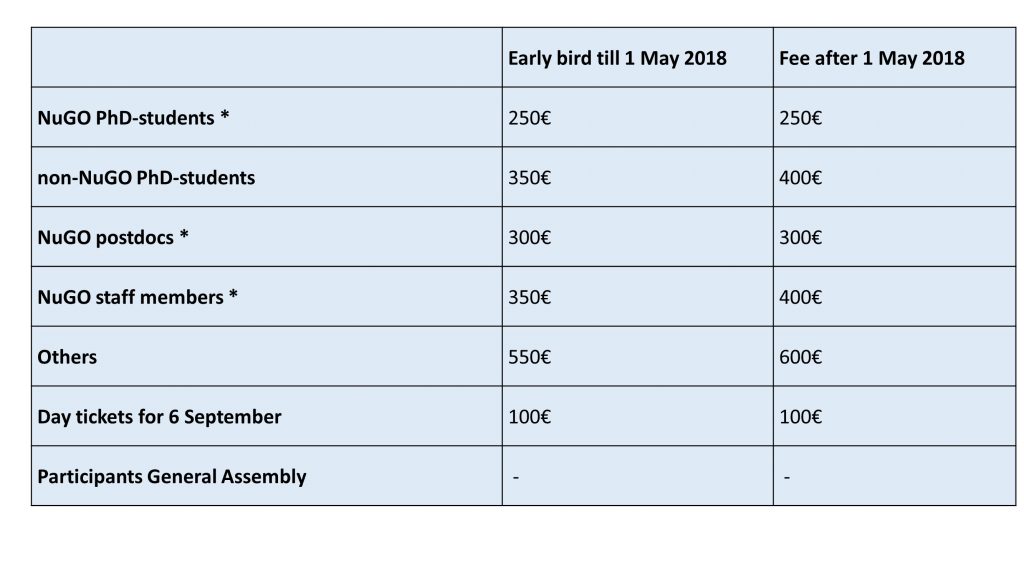 * Participants affiliated with one of the NuGO member organisations.
The registration fee includes conference materials, access to all conference sessions, coffee breaks, welcome cocktail, conference dinner, lunches on 4, 5 and 6 September.
Payment details:
To secure your registration you have 2 options to pay. Please mark your choice clearly on the registration form.
1. Payment by Bank Transfer
Bank details:
SNS bank
P.O. Box 8466
3503 RL Utrecht
The Netherlands
IBAN: NL81 SNSB 0943 9769 95
BIC: SNSBNL2A
Account Holder:
Vereniging European Nutrigenomics Organisation
Stippeneng 2
6708 WE Wageningen
The Netherlands
Description: Invoice number / name participant & NuGOweek 2018
* Note that bank transfer costs are for your own account.
2. Payment by Credit Card
We will send you confirm your registration a Pay Per Link by PaySquare. This might take some days as this has to be done manually!
* Additional credit card costs will be charges as well.
Cancellations
*No charge until Sunday July 29th, 2018
*No refund after Sunday July 29th, 2018
Registration
To registration form, please click here